4 Smart Tips for Christmas Food Shopping and Storage
As the centrepiece of the big day, shopping for Christmas dinner can be a bit of a mad dash, an assault course of endless queues, dwindling stock and arduous preparation. But with a bit of forward planning, you can avoid making a meal of your yuletide feast and turn it into a real Christmas cracker with ease.
With the help of some of our favourite food bloggers, we've got some handy hints and tips to get your shopping sorted and your food stored away properly.
The fine art of splurging and saving
Along with the presents, decorations and crackers to factor in, the cost of Christmas can mount up. Throw in the food shopping bill and your bottom line can start to look pretty hefty.
But Cate Bell, from Cate in the Kitchen, says a bit of judicious balance can go a long way to spreading the cost. She says: "The big Christmas food shop can get pricey, so think beforehand about where you need to splurge and where you can save. If you're meat eaters, I think it's really important to source good, organic and ethically produced meat from your local butchers - but hit up the budget supermarkets for those tasty festive snacks we all love to graze on while we watch the Christmas specials."
Make room for your frozen assets
Picture the scene, you've spent a good few hours buying sackfuls of food that's sure to delight and satisfy your family. You've made it back home and done three trips to the car just to unload it and you're ready to settle down after putting it all away. One catch: the freezer is filled to bursting with food already, and even if you did a bit of moving around, the ice in there could rival a glacier.
Jo Middleton, of Slummy Single Mummy, says: "My top tip would be to defrost your freezer in advance to free up space to store food and take advantage of offers in the run-up to Christmas. If other people's freezers are anything like mine, then probably around half the storage space is taken up by ice! Giving your fridge freezer a pre-Christmas spring clean is a great way to make more space and keep it working as efficiently as possible too."
So before you shop, make sure the freezer has the space it needs to hold the all-important turkey and all the trimmings.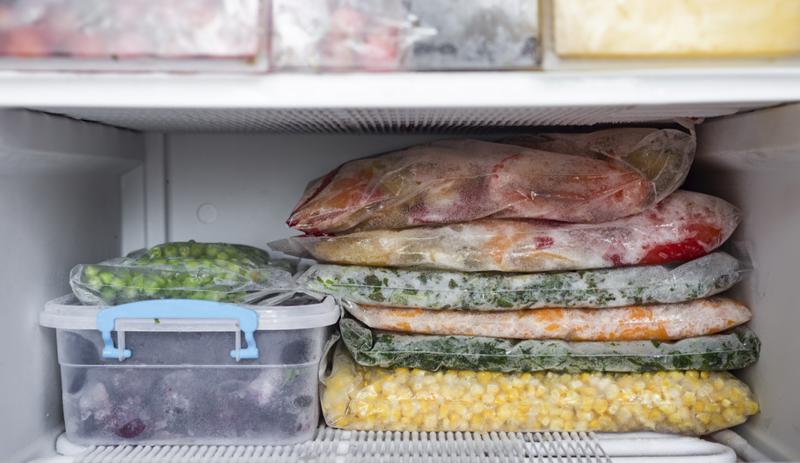 Beat the queues and shop online
Despite seemingly being a favourite pastime of the British, queuing during the Christmas rush can test the mettle of even the steeliest of shoppers. Heading online to do your shopping not only avoids all that standing around in endless queues, there are some brilliant bargains to be found too.
Limahl Asmall, of Tiny Budget Cooking, says: "The festive season is the perfect time to indulge in our favourite foods but it can quickly become an expensive week. Whilst no one wants to tighten the purse strings during the festive period, there is one simple way to save big time on the food shop.
"So long as you live in an area where supermarkets deliver, it is possible to bag up to 30% off your Christmas food bill, simply by making use of supermarket incentives to shop online. Just this week, I've found £21 off your first shop over £80 at Sainsbury's, £30 off your first shop over £100 at Ocado and £20 off your first shop over £50 at Farm Drop.
"The trick is to order the high-value ingredients such as turkey, booze, meat and desserts online and then shop locally for the trimmings. This way you'll support your local shops and get the big discounts from the supermarkets.
"And to top it off, you'll save yourself the mad dash around the supermarket aisles! So that's win-win."
Make the most of marked-down stock
If you are willing to venture into the supermarkets and face the queues, then the savvy shoppers among you will be open to a world of marked-down stock at rock bottom prices. From snacks and veg to the turkey itself, the prices fall and fall around this period, so be sure to give it a go if you're looking to save.
Kelly Eroglu, of Reduced Grub, notes: "Now is a fantastic time to start picking up those Christmas foodie bargains. Shops will often over stock, so fab items such as party foods, Christmas desserts, cheese, meat and veg - which are all easy to freeze - will often be marked down. Find out the reduction times at your local supermarket, and pop along and see what goodies you can pick up".
Kelly also offers some tips for Christmas Day itself: "Blanch veg ready for the big day, and if you're really, really brave, pop along to M&S on Christmas Eve, as they knock the Christmas turkeys down to half price or less!
"Being savvy means saving money for other necessities, so get organised, check out the reduction times and grab some bargains!"
We hope these tips will help ease some of the stress this Christmas. Remember, 'tis the season for leftovers, so all your seconds can be stored using the FoodSaver vacuum sealing system, helping you save money and reduce food waste. For more information about our innovative vacuum sealers, visit the homepage.