Delicious Make-Ahead Meals That Are Freezer Friendly
Sometimes there just aren't enough hours in the day. And it's at times like that when you'll be glad you've got a delicious meal waiting for you in the freezer. Meal prepping is becoming increasingly popular for people with busy schedules, families run off their feet, and those who want to make sure they stay on track with their healthy eating. It saves time and means there's one less thing to worry about.
Whether you're meal prepping for the entire week or making enough for two meals, try any of these freezer-friendly make-ahead meals. Simply grab it out of the freezer when you get home, pop in the oven, and thank past-you for being so organised.
Fish Pie
A delicious and creamy comfort food, everyone has their own way of making fish pie. The dish is usually made using at least two types of fish (one smoked for added flavour), prawns, peas and sweetcorn, smothered in a creamy white sauce and topped with a thick blanket of mash.
Not only is fish pie an easy dish to make ahead and freeze, but once you've prepared the creamy sauce and the mash, you can use fish and prawns straight from the freezer. Ensure that there's an even distribution of fish and seafood, pour over the sauce and top with mash. Allow to cool before placing in the freezer.
When you come to cook it, top the pie with grated cheese and place in the centre of the oven for around an hour. Check it's thoroughly cooked before serving with a side of broccoli and carrots.
Vegetable Soup
An easy and healthy meal for any night of the week, vegetable soup is a great back-up to have ready in the freezer, as it can be defrosted and cooked in the microwave in a matter of minutes. What's more, it's a brilliantly adaptable recipe which lets you use up just about any leftover veg, even the wrinkly ones past their prime and the leftovers from the Sunday roast.
First sauté chopped onions and garlic in a large casserole dish, before adding whichever vegetables you choose. Root vegetables such as potatoes, carrots, parsnips and swede make a great base for winter soups, while Mediterranean vegetables such as tomatoes and peppers are ideal for the summer months. Cabbage, celery, broccoli and butternut squash all make great additions too.
Next, add the herbs of your choice (chilli and paprika for a spicy kick, rosemary and thyme for a homely touch), salt and pepper to taste, and a litre or so of vegetable stock before leaving to simmer for 20 minutes or so.
It's up to you if you want to blend your soup for a smooth consistency or leave it chunky. Freeze in portion-sized containers and serve piping hot with crusty bread rolls.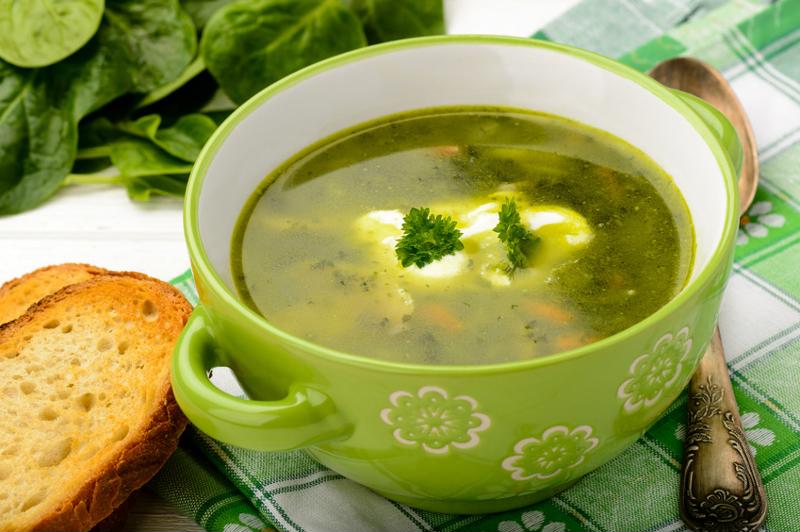 Bolognese
The brilliant thing about making ahead and freezing Bolognese sauce, is that it can make a base for a huge variety of meals. Pour it on top of a mound of steaming spaghetti, add spices and kidney beans for a hearty chilli con carne, layer between aubergine and feta for a delicious moussaka, cover with creamy mash for shepherd's pie, or pile it on top of cheesy nachos with guacamole.
Traditional Bolognese uses both beef and pork mince, chopped onions, carrots, celery and red wine. But most families will have their own way of making the traditional Italian dish, so go your own way and make it how you like, whether that's with turkey mince, Quorn, or loads of chopped tomatoes. Freeze in portions to be defrosted and used at a later date.
Marinated Chicken
If you're in the habit of buying fresh chicken, portioning it out and freezing it, this idea could change your dinners forever! Instead of simply freezing the chicken as it is, add a marinade to the meat before vacuum sealing and freezing.
When you take the chicken out of the freezer to defrost, it can absorb all the delicious flavours from the marinade before being cooked. Then all you have to do is bake it in the oven along with some wedges and chopped vegetables for an easy and tasty meal.
You'll find instructions for seven marinades on this website, including coriander and lime, sweet chilli, jerk, lemon and ginger, honey and garlic, curry and yoghurt, and chipotle. Try a different one each week and find out which is your family's favourite. Why not use the same technique with fish and pork chops?
Alternatively, if you fancy beautifully marinated chicken tonight – the FoodSaver Vacuum Sealing Quick Marinator infuses food with intense flavour in just 10 minutes, taking mealtimes to a new level.
Slow-Cooked Meals
The ultimate time-saving meal solution: pre-prepared ingredients you simply add to the slow cooker in the morning and come home to a delicious meal in the evening. All it takes is a little preparation and some vacuum bags. Simply chop the ingredients (no sautéing of onions or browning of meat required), add herbs and spices, vacuum seal, and freeze.
When needed, remove from the freezer and defrost in the refrigerator overnight. Then, before you leave the house in the morning, empty all the ingredients into the slow cooker, pour broth over the top, and leave on the 'low' setting for eight hours or more.
This method can work for stews, casseroles, curries, soups and more. Try this technique with an old family favourite, or make something completely new.
Meatloaf
A cheap and tasty go-to meal which can be adapted and updated to suit everyone's tastes. The trick with meatloaf is adding egg and breadcrumbs to ensure the mince binds together. Other than that, you can add whichever herbs, spices and sauces your family enjoys, whether that's a healthy splash of Worcestershire sauce, mustard, or even Tabasco.
Combine all of the ingredients well, before shaping in a loaf tin. Use a disposable metal or a reusable silicone loaf tin for freezing, then label, date, and store in the freezer for up to six months. Meat loaf can be cooked from frozen while you prepare mash or chips, vegetables, and of course a thick gravy to go with it.
We hope we've introduced you to a few great ideas for make-ahead meals for the family. And don't forget, all these dishes can be stored for leftovers using the FoodSaver vacuum sealing system, so you can save money and reduce food waste. For more information about our innovative vacuum sealers, visit the homepage.