How to Save Money When Buying Meat
Buying meat can sometimes be a costly endeavour, especially if you favour prime cuts and the more premium stuff. Even with something as plain and simple as a chicken fillet, the costs can mount up. Thankfully, there are plenty of ways to save money when it comes to buying meat without compromising on taste.
Buy meat from the marked-down section
Frequent visits to the marked down section can end up paying dividends in the long term. You'd be surprised by the discounts you can find here, so keep an eye out for these best-before bargains. Unless you're going to cook them the same day, we'd recommend vacuum sealing marked-down meat and then freezing it, as this will dramatically increase the shelf-life of the meat. If you can find large quantities of reduced meat, then you'll have pulled off quite a coup for the coming months.
Stretching your meat
To make your meat - and money - go further, consider beefing it up by adding a few extras. Adding cheap fillers such as oats, breadcrumbs or even lentils and rice to ground mince can save money and make those purchases last a little longer.
Additionally, stretching what you have can help to increase the nutritional value, reducing the amount of fat per serving while also adding fibre, protein and vitamins in the process. And since you're essentially making food, you'll have more leftovers the next day, too.
Go meat-free for one day a week
Whether you adhere to Meat-Free Mondays, or there's one day a week you forego your usual diet, making something without meat has plenty of benefits. You'll save the money you'd usually spend, and open yourself up to a wonderful world of vegetarian fare, do your bit for the environment (however small) and add plenty of fibre and unprocessed carbs if you really commit to it.
"But where do you get your protein?" we hear you cry. Don't fret, you can bulk up your meals with all sorts of beans and lentils to get all the nutrients you need. Who knows, you might find you have a liking for going meat-free and make it a more regular thing.
Buy the cheaper cuts
An obvious one, but if you're not too bothered about the quality of your meat, go for the more affordable cuts. Get working your magic in the kitchen and turn them from bargain to brilliant with a delicious marinade, or fire up that slow cooker that's been stuffed at the back of the cupboard for the last few months.
Also, if you've bought meat with bones, don't throw them out. Bones can be full of flavour, so consider putting them to good use. Add them to some broth, throw in a potato and some carrots and you've got yourself a stew for next to nothing.
Bulk buying and dividing
Wherever you get your meat, stock up on your choice cuts and buy in bulk. Large wholesalers such as Costco are your friends here – you can find larger packs of meat for much less than at your regular high street supermarket. If you're a pro at purchasing in bulk, you can buy meat that'll last for months and months.
Divide your meat and package them for one-night dinners too as this'll dramatically save on prep time. If you're bulk-buying bacon, divide each slice with grease paper before you freeze them to avoid the near-impossible task of separating an entire pack.
Buying larger cuts and trimming yourself
If you have the time and patience, buying a larger cut, beef tenderloin for example, and then trimming it yourself can really reduce the cost of buying meat. Having a supermarket or butcher trim the meat for you is a sure-fire money drain, so get those knives sharpened and do it yourself. There are plenty of guides and tutorials online to help you, so you'll be a pro soon enough.
Markets, online deliveries, local butchers
Explore other avenues when buying your meat. You can find great deals online at reasonable prices, with plenty of organic, locally-sourced choice to pick from. Aside from your usual artisan meat outlets, you can always get unorthodox with your methods.
MuscleFood.com, a website devoted to supplying gym buffs and sports enthusiasts with high-quality, low-priced meat is well worth checking out. Westin Gourmet, a supplier of superb, restaurant-quality cuts of meat, recently joined forces with them, and you can find some great bargains on there. The delivery is super quick too!
If you're prepared to haggle, head over to your local farmer's market near closing time, when vendors are more open to negotiating. Alternatively, see what the pricing is like at your local butchers, they're sure to have deals, and getting in good with them is never a bad idea.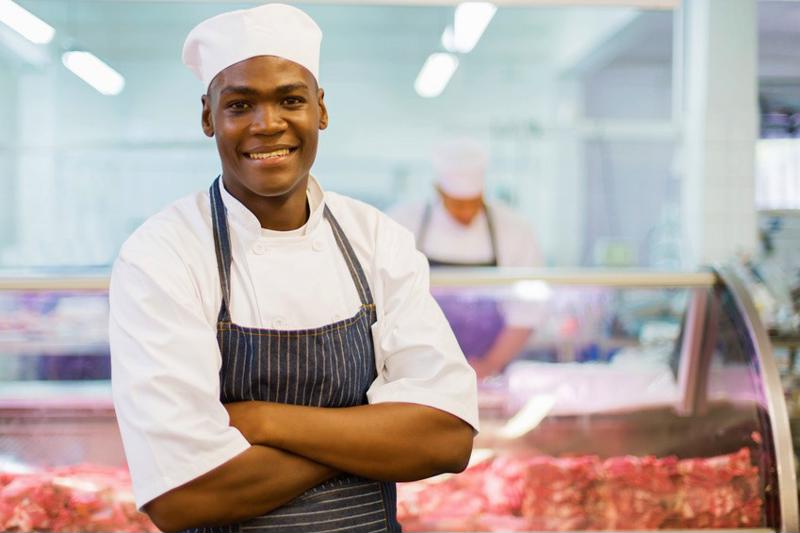 Seasonal sales
As Christmas approaches, meat is often at its most affordable. As well as the turkey, make sure your fridge is well-stocked with marked-down meat for the coming months. Don't forget to wait until the week after Christmas, the remaining stock usually gets marked down considerably and you can pick up some great deals. Vacuum seal and freeze it and you should have enough to make it to the next season without troubling your wallet much.
A word on turkey by the way. We tend to save this bird for the holiday season, but consider buying it all year round. It tends to be cheaper than beef and pork, and is very low in fat.
Enjoyed this article? Be sure to check out the FoodSaver blog for more tips on saving money and making your food go further. Or, for an innovative solution to food storage and waste reduction, browse our full range of vacuum sealing systems.