The Best Budget Fakeaways: 8 Healthier, Easy-To-Make Alternatives
Whether you've managed to stick to some sort of New Year's resolution or you're looking to get back on track with a selection of healthier meals, then good news: eating in is the new taking out.
Fakeaways are all about replicating those takeaway faves without denting the wallet or expanding the waistline.
Before you start rummaging through that drawer full of take-out menus, take a look at this selection of the best budget fakeaways. Delicious, cheap and super easy to make, these satisfying dishes are perfect the next time you get the urge to call up your local takeaway.
A takeaway staple that's a breeze to make yourself. And rather than paying over the odds for a small portion of rice with rubbery, somewhat suspect egg, you can make a big batch with plenty of silky beaten eggs in there that'll last you the whole week.
With black pepper and green chilli for an added kick, this versatile recipe goes well with plenty of other dishes on this list, providing a foundation for your fakeaways in less time than it takes to wait for your order to arrive.
If you're looking to get your kids involved with cooking, this chicken madras recipe is a great way to give budding chefs a head start in the kitchen. Not only is it easy to make, it does away with the buckets of grease that a lot of takeaway curries tend to be swimming in.
Packed with flavour, light on the spices and low in fat, take it to the next level by adding in peppers, onions, and any other veggies you see fit. Great for getting the family together, and a fraction of the cost of your usual takeaway curry.
Spice things up in the kitchen with this exotic, fragrant Chinese dish. Packed with lean beef, extra protein from the cashews and a generous helping of greens that crisp up in the wok for added tastiness, this is perfect for a mid-week treat.
Chinese five spice adds that unmistakable takeaway flavour so is well worth tracking down, while the lime juice and ginger cut through the salty soy sauce with just the right amount of sharpness. Serve it up with the egg-fried rice from above or throw some noodles into the wok for some extra sustenance.
Fried chicken is a super indulgent takeaway treat but unfortunately eating it regularly is not advisable, despite its deliciousness. Free from a lot of the fat and grease of the typical KFC family bucket, this recipe is a great substitute.
Using skinless cuts of chicken means you're getting plenty of the lean good stuff, while grilling (as opposed to deep frying) does away with all the unhealthier aspects. Mustard powder, cayenne and paprika all packs a flavoursome punch, while the panko breadcrumbs can be switched out for more common ingredients such as stuffing or wholemeal bread if you so desire.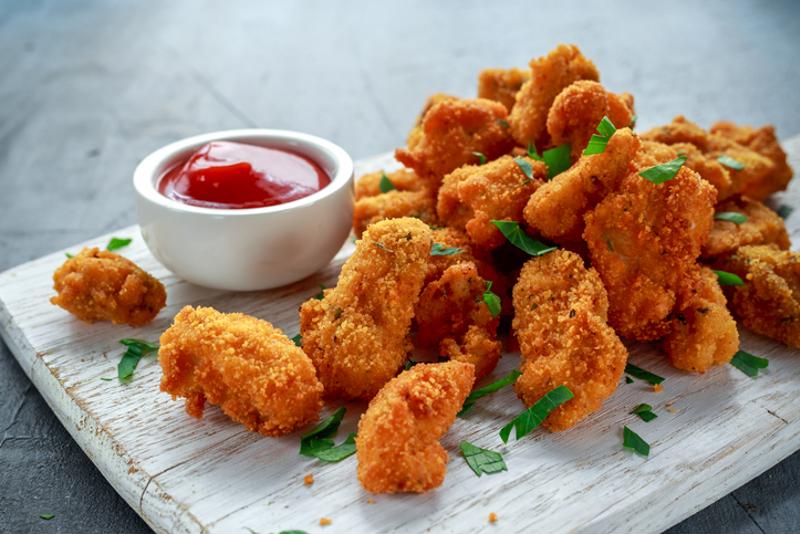 A classic Indian dish that's well worth trying yourself, the delicious, creamy cubes of paneer in this easy recipe take no time at all to cook, so you've got yourself a takeaway-level meal in a matter of minutes.
Authentic and delicious, the flavour of the spices mixes wonderfully with the tangy tomato puree and the smooth richness of the yoghurt. You could even throw in some frozen peas or chickpeas for an added protein boost that's extra filling.
No collection of takeaway substitutes would be complete without a stir-fry. This one from the master of pukka tucker himself, Jamie Oliver, is a super quick fix that has all the tastiness of the takeaway with none of the guilt.
Loaded with all sorts of goodness from the peas, peppers, cabbage and beansprouts, this clean, easy-to-make stir-fry is sure to satisfy. Finish with some sesame seeds for an extra authentic touch.
Who doesn't love a cheeky Nando's? This recipe may not be the real deal, but it ups the cheekiness quotient considerably by minimising the fat and sugar, without losing the flavour. Full of fiery, chargrilled goodness, this is just as good as a proper Nando's.
Serve it up with sweetcorn, potato wedges and garlic bread for a full meal at a fraction of the price.
Yep, even pizza can be given the fakeaway treatment! Made using healthier ingredients that don't compromise on flavour, this Domino's-quality alternative is perfect for curling up on the sofa with at the weekend. This recipe calls for red onion, peppers, mini pepperonis and paprika-spiced sausage, but any of your preferred toppings would work just as well.
And to help all these recipes last a little longer, they can all be stored using the FoodSaver vacuum sealing system, so you can save money and reduce food waste. For more information about our innovative vacuum sealers, visit our homepage.