From Kimchi to Sauerkraut – How to Begin Pickling Fruit and Vegetables
If you're the kind of person who knows all about the benefits of getting in a pickle, then you'll know the zingy kick that the process adds to peppers, cucumbers and fruit very well. If pickling is new to you, then we've already touched on how to use your vacuum sealer to get more flavour from some simple ingredients. Consider this piece one for more seasoned picklers, an altogether spicier, more flavourful guide for those looking to take the next step.
We've mentioned how the process works and what kinds of health benefits pickling can have already, but in this piece, we'll explore how to get started with delicious pickled foods such as kimchi and sauerkraut to make your favourite dishes even tastier than ever.
Vacuum-sealed kimchi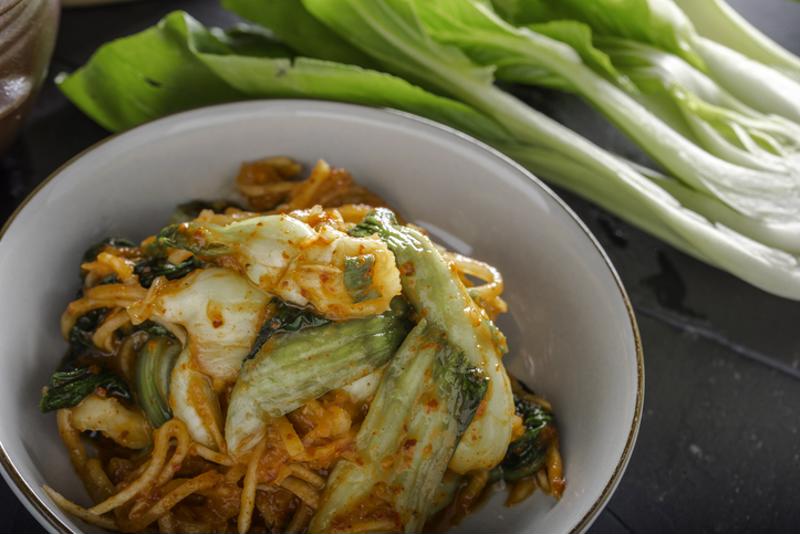 What is it?
A traditional Korean dish that uses the process of fermentation to pickle and preserve fresh vegetables, kimchi is a delicious cabbage-based side dish that has plenty of spice and crunch to it. Steadily gaining in popularity in the west, its powerful garlicky flavour gives main dishes a potent punch that's crammed with added health benefits. Those who swear by kimchi note its anti-obesity effects, with vitamin A, B and C helping to lower cholesterol. It's also been shown to help improve the skin too!
How to make it?
To create this tasty accompaniment, you'll need the following:
Once your veg is all nice and chopped up, toss it all together, throw it into a vacuum bag. Turn about 1.5-2" of the top of the bag down so you can keep the sealing surface clean, and only fill the bags to halfway. This way, there's plenty of room for your bacteria to be outgassed, this will allow the bag to expand as the veggies ferment.
Now you'll need to weigh your bag. Subtract the weight of the empty bag from its contents. The amount of salt we're adding is 2.5%, so multiply the weight of the vegetables by 0.025.
Measure the salt, and place it in the bag. Here's where the dried spices need adding too. Straight after salting, immediately seal the bag using your vacuum sealer. If you wait too long, the salt starts drawing water out of your veggies, and the liquid can cause problems.
Store them away for 4-6 weeks at an optimal temperature of 15°C. – consider buying a mini fridge to achieve this. We know all those weeks might seem like a long time, but the duration allows the good bacteria to grow. From here you can place in jars to store them in your fridge.
What can I serve it with?
The great thing about kimchi is that it can be served with all sorts of dishes, making it a highly versatile condiment to have at your disposal. Classics like fried rice and udon noodles benefit from its power, but you can even throw it into scrambled eggs or quesadillas for a surprisingly harmonious combination of flavours.
Vacuum-sealed sauerkraut
What is it?
Though not originating in Germany, sauerkraut (literally "sour cabbage") is synonymous with the country. A classic layered onto sandwiches, with hotdogs, or thrown into a salad, it's another fermented favourite that's chockful of health benefits. High in antioxidants and rich in vitamins C and K, the low-calorie side is also a great source of dietary fibre, folate, iron and potassium.
How to make it?
Making your own sauerkraut can be as simple as shredding a medium head of cabbage, and vacuum sealing it with 1.5 to 2 tablespoons of salt. But if you want something a little more special, we suggest the following in addition to the cabbage:
As with the kimchi, prepare everything the same way, including the 2.5% salt by weight. Once everything's sealed, then you're good to store it in the same manner as your kimchi.
What can I serve it with?
Sauerkraut's rustic roots mean it's great in things like stews and casseroles, while the Rueben sandwich a grilled American treat that comprises corned beef, Swiss cheese, sauerkraut and Russian dressing is another great use. If you're the adventurous type (or just love the stuff so much), why not try this sauerkraut chocolate cake?
Pickled fruits
Here's where things get interesting. Vacuum sealing fruits in sweet or savoury liquids opens up a whole other world of flavours and dishes, and can produce some quality seasonal accompaniments whatever the weather. Change up the way you prepare your fruit with some of the following:
Grapes
Add some zingy sweetness to sandwiches or grilled meat straight from the BBQ in the summer months with this excellent little treat.
This recipe calls for it to be kept in a jar after preparation, but you can easily vacuum seal it before storing them away.
Peaches
A sweet and sour special that goes just as well with a scoop of ice cream as a delicious roast ham straight from the oven, these pickled peaches make for a versatile addition to any fridge.
Give this recipe a go, just be sure to vacuum seal them once they're done.
Watermelon rinds
Pickling your watermelon rinds is a delicious way of making sure nothing goes to waste with your fruit, which is what we're all about at FoodSaver. A favourite in the southern United States, try this recipe here and you'll soon see how the humble rind can be transformed in an instant.
Mango
These delicious pickled mangoes add plenty of kick to healthy green salads, liven up fish dishes and make an excellent snack too.
Remember, to help the food in this article last a little longer, it can all be stored using the FoodSaver vacuum sealing system to help you save money and reduce food waste. For more information about our innovative vacuum sealers, be sure to visit our homepage.