Cheese-Stuffed Bacon Burgers
These mouth-watering beef and bacon burgers are cooked sous vide, then finished on the grill for the ultimate summer barbecue favourite.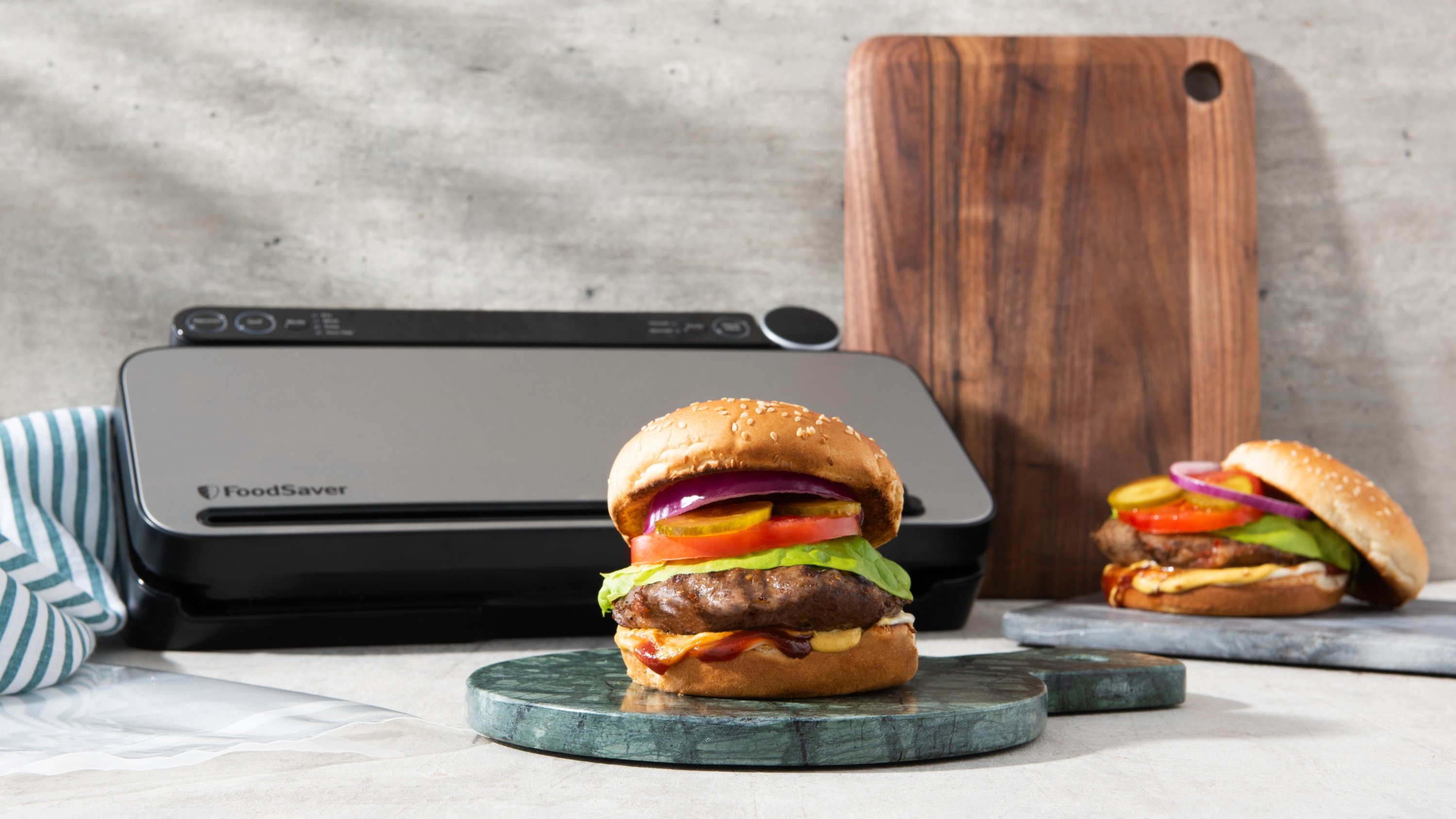 Ingredients:
4 oz. cheddar cheese block

1 1/2 lbs. lean ground beef

2 thick slices double-smoked bacon, finely chopped

1 tbsp steak seasoning

4 burger buns, split and toasted

1/4 cup mayonnaise

1/4 cup barbecue sauce

4 tsp Dijon mustard

4 leaves lettuce

4 thick slices tomato

4 round red onion slices

16 slices bread-and-butter pickles
Instructions:
Cut Cheddar cheese block into 4 large cubes; set aside. Mix together beef, bacon and steak seasoning; divide into 4 portions. Roll each portion into ball; press cheese cube into each burger, wrapping the meat around it, to completely enclose the cheese. Shape each portion into 3/4-inch thick patties.

Individually seal burgers using FoodSaver® FM5000 System according to appliance guidelines. Fill cooking pot with water. Add sous-vide machine; set to 160˚F for well-done burgers. Lower vacuumed bag into heated water, weighing down to submerge, if necessary. Set timer to 40 minutes or up to 3 1/2 hours.

Carefully remove bag from water; let stand for 5 minutes before opening and removing burgers.

Preheat grill to high heat; grease grate well. Grill burgers for 1 to 2 minutes per side or until well marked and heated through.

Assemble burgers in buns with mayonnaise, barbecue sauce, mustard, lettuce, tomato, onions and pickles.
Tips:
Substitute provolone, Gouda or Gruyère for Cheddar cheese.

As a variation, top burgers with your favorite toppings.
Nutrition Facts
Per 1 burger
Calories 680
Total Fat 38g
Saturated Fat 14g
Cholesterol 110mg
Sodium 1530mg
Carbohydrate 45g
Dietary Fiber 2g
Total Sugars 11g
Protein 41g
Vitamin D 0.8mcg
Calcium 340mg
Iron 4.8mg
Potassium 630mg
Nutrition Claims
✔Good source of calcium
✔Good source of iron
Lunch And Dinner
Beef
Meal Prep