Red Wine & Rosemary Marinade for Beef Stew
This Mediterranean-inspired marinade is a perfect match for the bold flavors of beef and lamb.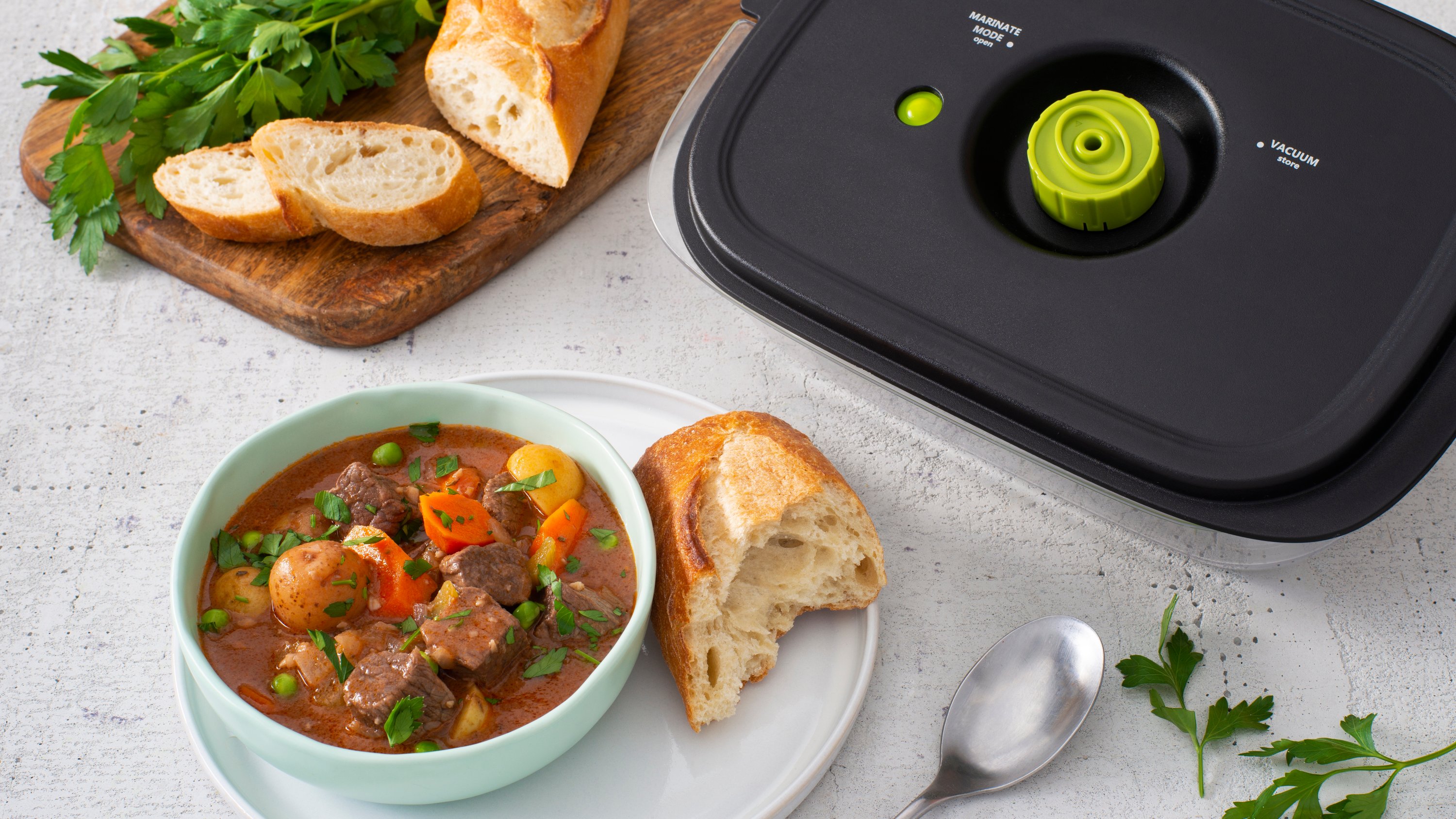 Ingredients:
Red Wine & Rosemary Marinade:
1/2 cup dry red wine
2 tbsp olive oil
2 tbsp finely chopped fresh rosemary
1 tbsp Dijon mustard
1 tbsp red wine vinegar
4 cloves garlic, minced
1 tsp salt
1 tsp pepper
Red Wine Marinated Beef Stew:
3 lbs. stewing beef

2 tbsp butter

1 onion, chopped

2 stalks celery, chopped

2 tbsp all-purpose flour

3 cups beef broth

1/4 cup tomato paste

2 lbs. small potatoes

2 lbs. carrots, cut into large chunks

1 cup frozen peas

2 tbsp finely chopped fresh parsley
Instructions:
Red Wine Marinade: Stir together red wine, oil, rosemary, mustard, vinegar, garlic, salt and pepper.
Red Wine Marinated Beef Stew: Fill FoodSaver® Container with the marinade and beef; turn the valve to the marinate setting, remove the liquid reservoir, connect the FoodSaver® Handheld Sealer and press the Marinate Button. Allow the sealer to run a 12-minute cycle to infuse beef with marinade.
Remove beef from marinade, reserving marinade.
Preheat oven to 325ºF. Melt butter in Dutch oven or large ovenproof saucepan set over medium heat; cook onion and celery for 3 to 5 minutes or until starting to soften. Sprinkle flour over top; cook, stirring, for 1 to 2 minutes or until smooth. Slowly whisk in beef broth and tomato paste; bring to boil.
Add stewing beef and reserved marinade to pan; cover and bake for 2 to 2 1/2 hours or until beef is just tender. Stir in potatoes and carrots. Cover and return to oven; cook for 30 to 40 minutes or until vegetables are tender and meat is tender enough to cut with a fork.
Stir in peas; cook for 2 to 3 minutes or until heated through. Sprinkle with parsley.
Tip: Use this marinade with beef, lamb, chicken, pork or turkey. Grill or roast meats, or turn into stews, with the flavorful addition of the marinade as in this recipe.
Nutrition Facts
Per 1/6 recipe
Calories 630
Total Fat 24g
Saturated Fat 9g
Cholesterol 130mg
Sodium 1150mg
Carbohydrate 48g
Dietary Fiber 10g
Total Sugars 11g
Protein 52g
Vitamin D 0.9mcg
Calcium 95mg
Iron 10mg
Potassium 890mg
Nutrition Claims
✔ Excellent source of iron
Lunch And Dinner
Beef
Marinate